Innovative anti-theft solutions
for self-service sales
7,2 billion euros, it's the price that theft costs in France every year.
70 000 cases of shoplifting are reported to the police every year in France.
It is the European country with the second highest rate of theft after the United Kingdom. To fight against this phenomenon, 73% of shops in Europe use anti-theft solutions.
Read the article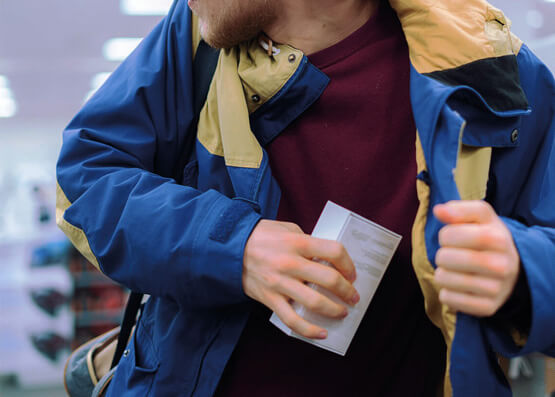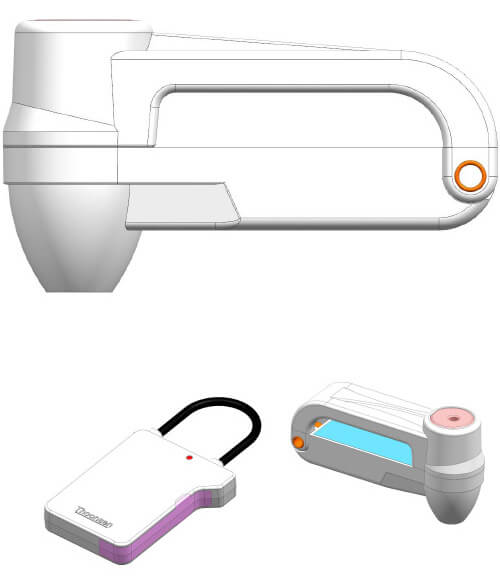 French manufacturer & creator of anti-theft solutions
created for mass retail
Thanks to his 30 years of experience in the field of anti-theft devices for the retail sector, our CEO Jacky Thoonsen has developed a wide range of anti-theft accessories.
That's why in 2009 we launched and patented the Quick Collection, a complete range of functional anti-theft tags, 30% faster to use, respectful of the items to be secured, and well detected by anti-theft systems. Since then, this range has enjoyed worldwide success, with millions of copies sold in over 30 countries : USA, Colombia, Mexico, Brazil, South Africa, Belgium, China, and all over Europe...
We never rest on our laurels and continue to innovate constantly in order to improve our products. For example, the tool for our best-seller, the Quick Bottle, has been modified more than 7 times to be sure it fits the needs of the market as closely as possible.
Choosing a Thoonsen anti-theft tag means opting for French innovation, with an efficient product at a good price.
Receive our catalog
Discover the video of our best-seller for bottle protection :
The

Quick Bottle

range
Our range of
anti-theft antennas
With more than 3000 antennas sold every year, Thoonsen takes place among the major actors in the market.
Anti-theft antennas are used to secure your shop exits. They are two main technologies for anti-theft systems, depending on your type of store :
Radio-frequency technology
Acousto-magnetic technology
Read the comparison RF/AM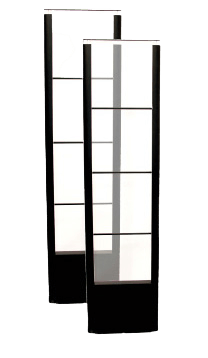 RF system
Radio-frequency is THE reference for the protection of grocery stores and is recommended for narrow aisles, or shops located in the town centre.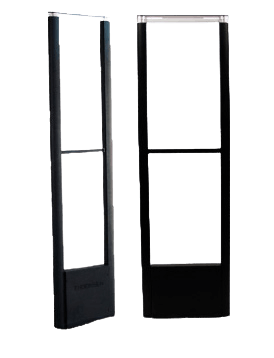 AM system
At the forefront of the fight against theft, acousto-magnetic technology offers a high rate of detection. Its optimal cohabitation with other neighboring systems of the same technology is recommended for shopping malls, cosmetics, pharmacies, or for wide aisles of up to 6.5 feet.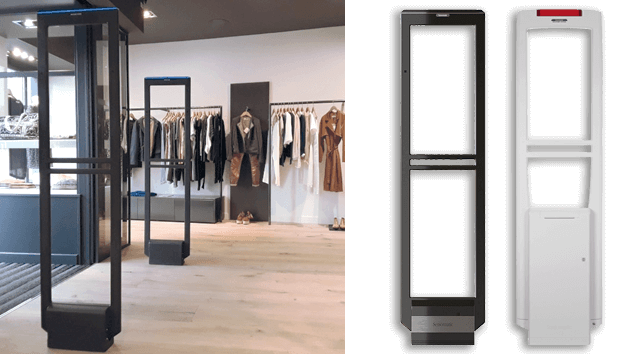 Official Distributor
Thoonsen & Sensormatic unite to offer reliability, performance, and innovation to your points of sale.
Worldwide leader of AM antitheft antennas
Creator of the acousto-magnetic technology with more than 1500 patents
Specialised in wide aisles (up to 8.20 feet)
Ideal to protect personal care products, sports goods, perfumery concepts…
Our customers' reviews
Your reactions and your reviews mean a lot to us.
You are the ambassadors of quality and trust, values that unite us ; driving us to make constant improvements to our products.
See Case Studies

"We particularly appreciate the innovations in terms of accessories, such as the Hyperlock lock which, for the same processing time, provides a real plus in terms of product security."

"With the Thoonsen anti-theft accessories, we have been able to evolve things because they are effective and very practical."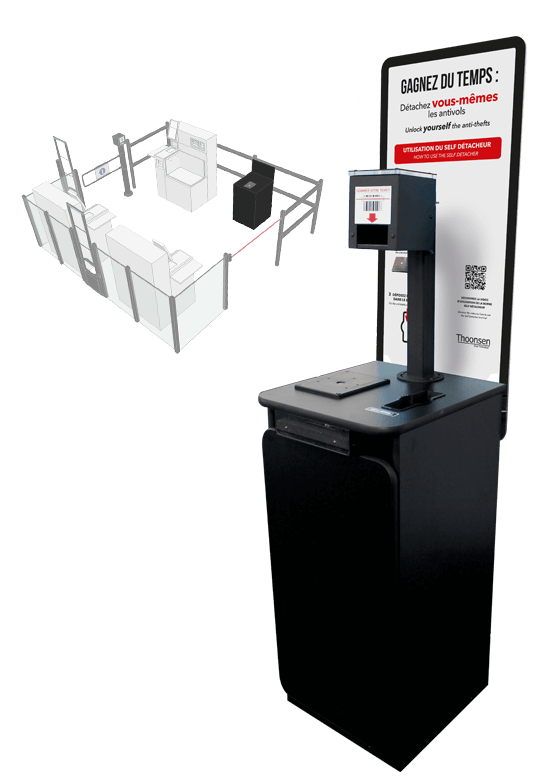 INNOVATION with
Self-Detacher terminal

Improve

customer's SCO shopping experience

Thanks to the Self Detacher, customers can remove tags from the products they have purchased themselves. Your SCO areas gain in autonomy, without compromising product protection.
AUTONOMY : the Self Detacher gives customers 100% independence when making their purchases in SCO/mobile payment zones. Customers can remove Thoonsen antitheft tags by themselves, easily and safely.
LIMITED COSTS : compatible with your Thoonsen antitheft tags and antennas.
COMPATIBLE WITH ALL PURCHASING EXPERIENCES : traditional checkouts, SCO areas, and mobile payments.
REDUCES LOSS of vulnerable products.
EASY TO DEPLOY : with a compact footprint of 16 x 16 inches, the Self Detacher is easy to integrate into your SCO areas.
DOUBLE CHECKPOINT : the customer removes the exact number of tags for the items purchased before leaving the SCO area which is protected by an antenna.
TIME-SAVING : customers no longer have to wait for a store assistant to come and remove the tag with a magnetic detacher.
Ready for now (SCO) and for the future (mobile Scan & Go).
Watch the vidéo