Fitting solutions

for your point of sale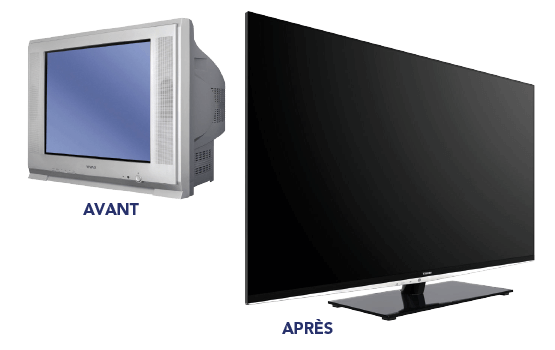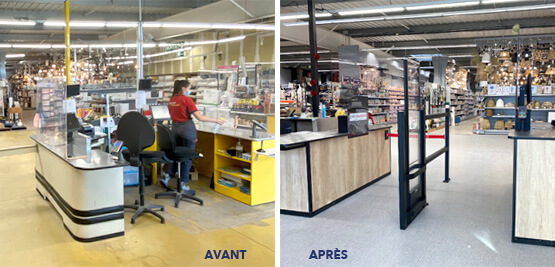 The
Blackline

collection
brings

modernity

to your point of sale
Bring a touch of modernity to your store with the Thoonsen Blackline range : make a break from traditional food retail stores that are usually equipped with chrome guidance systems and swing gates.
In recent years, consumers have tended to move away from supermarkets to open-air markets, so the supermarket standards of the 1960s are no longer in line with consumer desires.
This is why many brands are revisiting their concepts by using more noble, raw, industrial materials, and rethinking their layout and design in order to identify as much as possible with current trends.
It is with this in mind, working alongside supermarket brands, that we have developed our Blackline collection. The first thing your customer sees when entering your shop is the guidance (gates, bars) and anti-theft antennas. These are the elements that set the tone for the rest of your store, so it's important to put some thought into this. Black has been used in the luxury business for years, and its use in supermarkets brings your store concept into the 21st century.
When creating a product, it's essential to think about its installation and use, but it's also essential to think about what happens afterward : how will this product be recycled when it reaches the end of its life ? Chrome has the disadvantage of being very polluting during production and cannot be recycled. The same reasoning applies to Plexiglas® antennas, which are polluting and non-recyclable, and which must be burnt at the end of their life.
Our Blackline range, in black metal and thermo-lacquered paint is recyclable : once the product is dismantled it can be melted down and reused.
Putting your trust in our team when planning your installation means choosing a team of experts who will be at your side from the beginning to the end of your project.
Receive our catalog
Our
fitting range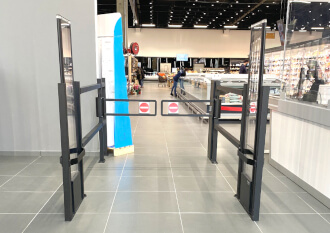 Emergency exit
Antennas, anti-panic mechanical gates...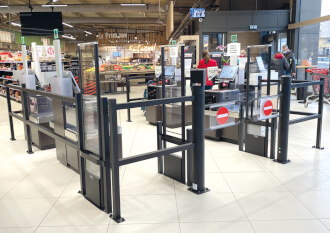 SCO areas
Customizable polycarbonate partitions (M1 norm), guidance…
Customized creation of your area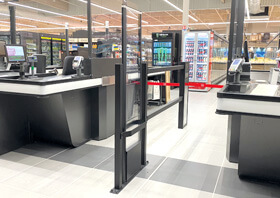 Between checkouts
Square black guidance to guide your customers and protect from cart impacts, mirror, and belt control…
Refined and aesthetic solution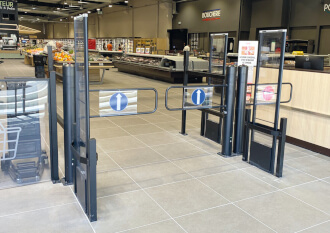 Entrance
Antennas, brand reminders, automatic gates and guidance
Modular solutions designed according to your needs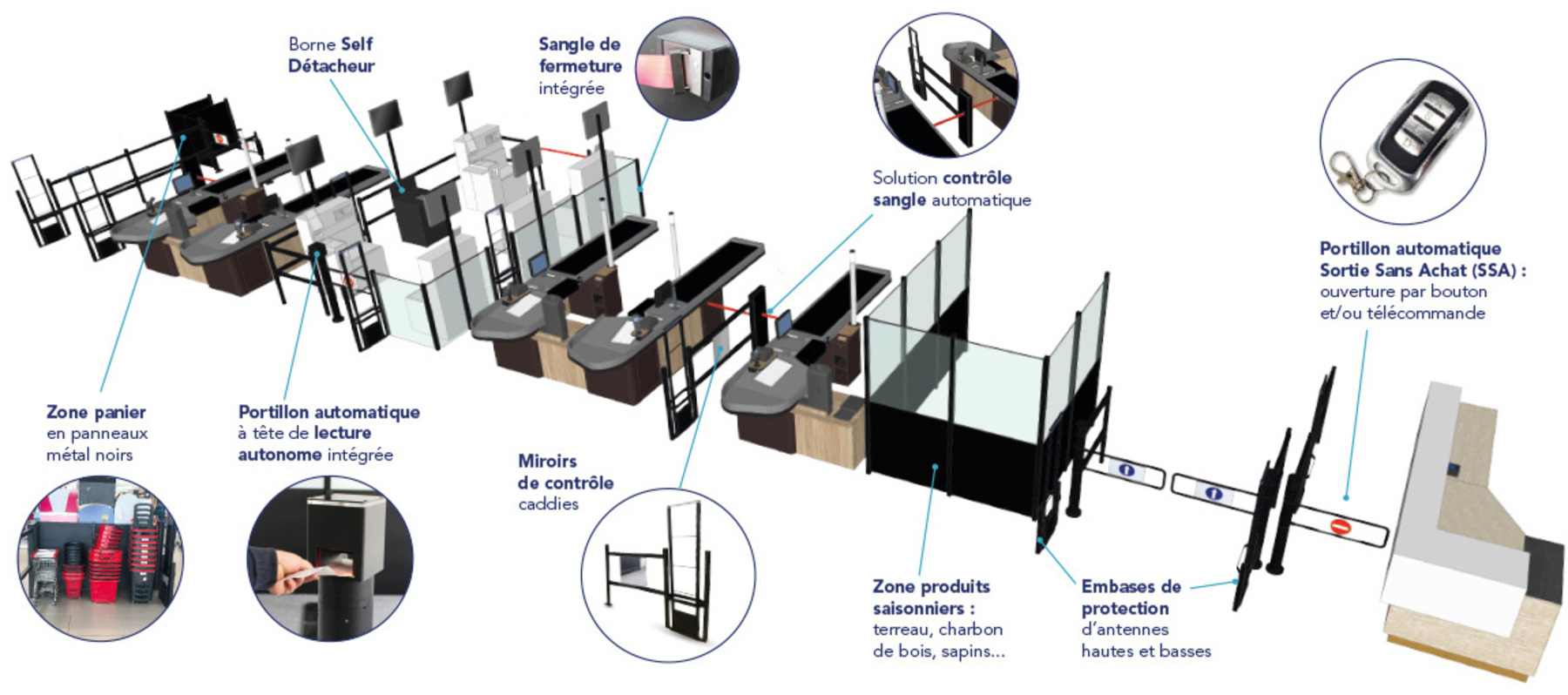 Our customers'
reviews
Your reactions and your reviews mean a lot to us.
You are the ambassadors of quality and trust, values that unite us ; driving us to make constant improvements to our products.
Case Studies

"At Thoonsen, the human factor plays an important role : our sales representative ensured us a qualitative follow-up from the beginning to the end."

"We have very good feedback from our customers, who appreciate the visual sobriety of our store."
Our
products
for the

fitting

of your point of sale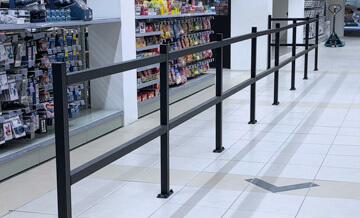 Guidance
With its square modern design and a strong resistance to impact (black thermo-lacquered painting), our guidance range enables you to MANAGE CUSTOMER FLOW whilst bringing style and harmony to your store.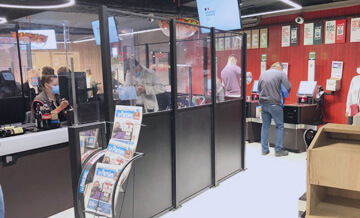 Partitions & walls
The Thoonsen polycarbonate, metal, or mixed partitions, available in two sizes (high and low) allow you to CREATE AREAS EASILY and furnish your store quickly.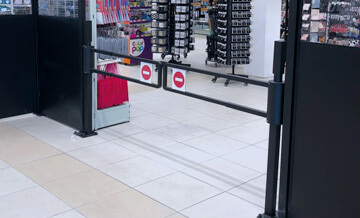 Mechanical swing gates
Blackline mechanical gates fit perfectly into all concepts with their resistant black finish and enable you to REGULATE YOUR ENTRANCES AND EMERGENCY EXITS with their adaptable signage.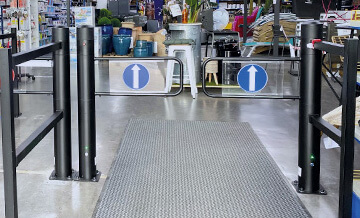 Electric swing gates
Thanks to their swivel arms which are automatically triggered when your customers pass through, our automatic gates allow you to SECURE YOUR ENTRANCE AND SCO AREA EASILY and elegantly.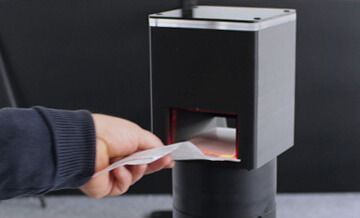 Barcode reader
The barcode reader is added to the post of your electric gate to AUTOMATE EXIT FROM YOUR SCO ZONE : your customers pay for their purchases and then trigger the opening of the automatic gate by scanning their receipt at the exit.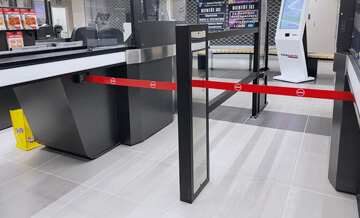 Belt Control Solution
Secure your checkouts with the belt control solution, a technological aid that enables you to LIMIT MOVEMENT BETWEEN CLOSED CHECKOUTS thanks to its alarm system.
Ask for advice