Professional checkout

& recycling furniture
We are a French

furniture manufacturer
We create modular layouts designed for professional use.
Manufactured in Châteauroux (36) in our workshops, our furniture has been designed to form coherent, aesthetic and efficient sets, maximizing your profitability and facilitating the daily comfort of your employees and customers.
Modular and practical, they are designed to optimize the available space as efficiently as possible according to your needs : remodeling or creation of points of sale. They integrate perfectly into all store concepts thanks to the wide choice of colors and aspects offered.
With it's meticulous finish, our furniture is built to resist shocks in busy stores on a daily basis and is made to last many years. It's conception is eco-friendly, with an attractive coherent design made for professional use.
Request a free quote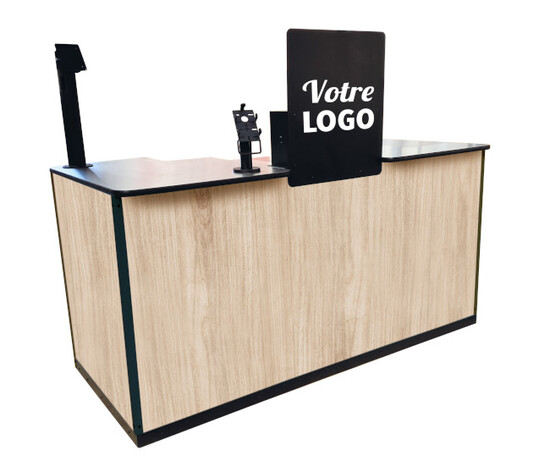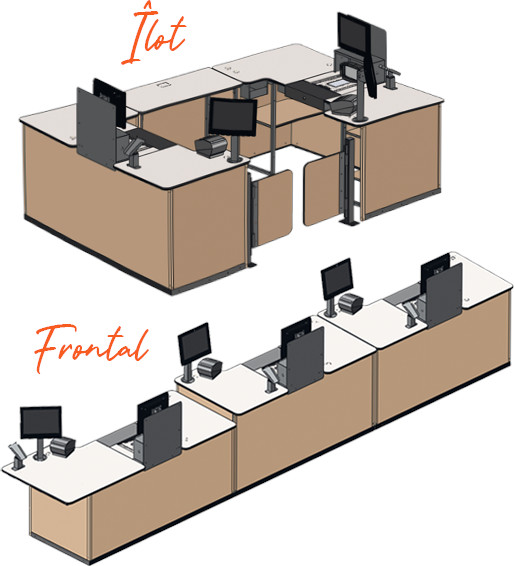 Create the
right setup

for your

needs

Your point of sale and your project are unique. For this reason, we have designed a modular layout solution which works in blocks (checkout, reception desk, junction unit).

Whether it is for front or island checkout, our professional furniture can be adapted to all point of sale configurations. Do not hesitate to contact us to discuss the possibilities available to you.

We help you decide the winning combination for your store.

Contact us
All our furniture is customizable and exists in version PRM (Persons with reduced mobility)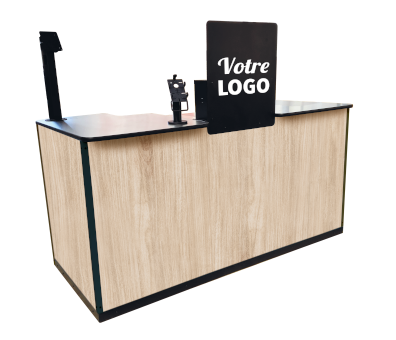 Checkout furniture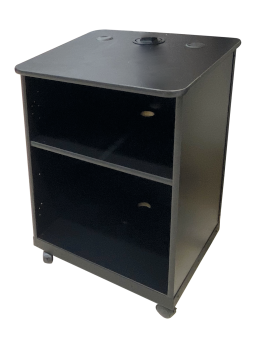 Mobile checkout desk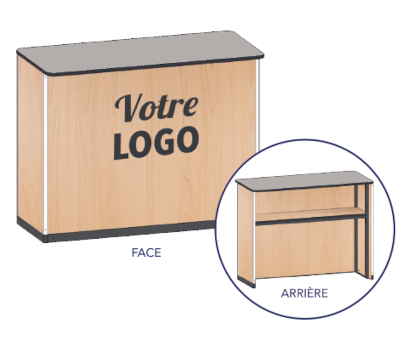 Reception desk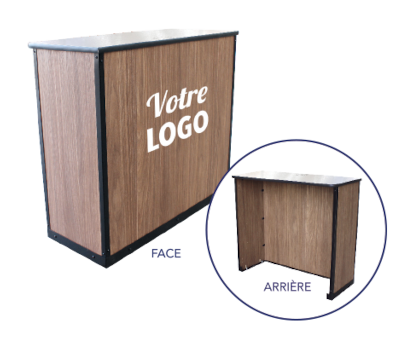 Junction unit
Our sorting furniture for
recycling
Making the circular economy, more sustainable and changing production and consumption patterns requires the implementation of certain new obligations.
A series of new measures and laws provide concrete actions for producers and distributors of electrical and electronic equipment.
Discover your obligations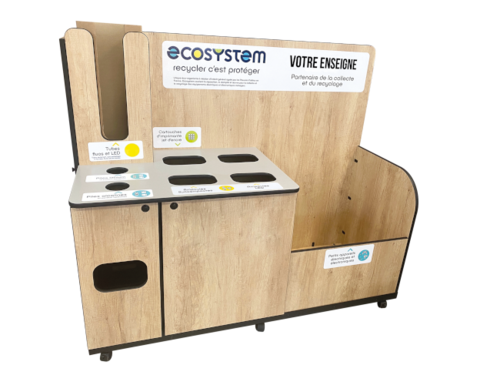 Designed on demand to fit your needs
Our recycling furniture meets the requirements of the AGEC standards, which will be in place by January 2023, making the sorting of packaging and electrical and electronic products mandatory in stores :
optimized dimensions to properly manage and enhance your spaces,
compatible with the European CE standard bins (respecting the maximum loads recommended by the Labour Code) and the containers provided free of charge by Ecosystem (avoiding dangerous handling),
sturdy and resistant, with a large choice of possible finishes.
Design in partnership with perifem, ecosystem and carsat (eligible for aid)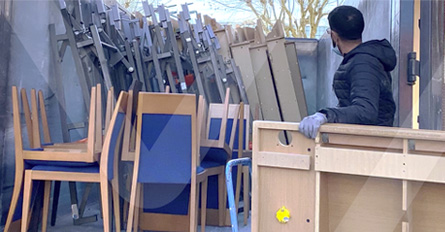 Eco-labeled recycling process for our professional furniture
As a full member of the French furniture industry, we are committed to the VALDELIA eco-labelled recycling process for our furniture.
VALDELIA is a non-profit organization approved by the French Ministry of Ecology which takes care of the collection, treatment and recovery of used professional furniture and guarantees the good practices of its partners.
Our customers' reviews
Your reactions and your reviews mean a lot to us.
You are the ambassadors of quality and trust, values that unite us ; driving us to make constant improvements to our products.
Case studies

"People who are present, who advise us and accompany us, all locally, we liked that."

La Châtre (36)
Members : Mr. and Mrs. LEDUC

"With the influx of the reopening, our 4 new checkout cabinets have been absolutely efficient."